For most homeowners, buying and setting up a home theater is easy. Getting the required accessories might be the last thing on their mind. Putting the final touches on your home theater is a bigger job than people think. After buying a home theater, you still need to go ahead to get all accessories to go with them. Surge Protector is one of these.
Home theater is by far the most central piece of appliance in a home. Everyone in the house loves to watch content on it. Whether it is a family gathering, pulling all-nighters, new movies premier, or just Netflix and chill. Everyone needs home theater at any moment of the day.
What are surge protectors?
It is self-explanatory itself. A surge protector is a device designed to protect your appliances from imbalanced spikes of electricity. It has a mechanism that turns down excess input power into the ground. To know more about surge protectors, click here.
Isn't a surge protector the same device? How surge protector for home theater is beneficial?
Many people think that all surge protectors are pretty much the same. There is some difference the variant creates. For example, if you are looking for a surge protector that fits well with a refrigerator, gaming PC, or generator. So,  Surge protectors that are specially designed for home theaters protect your home theater in a way that maintains the quality of sound and improves the process of setting up a home theater.
Recommended surge protectors for home theater.
Here is our recommendation for the best surge protectors for home theaters in the market.
Belkin 12-Outlet Power Strip with Surge Protector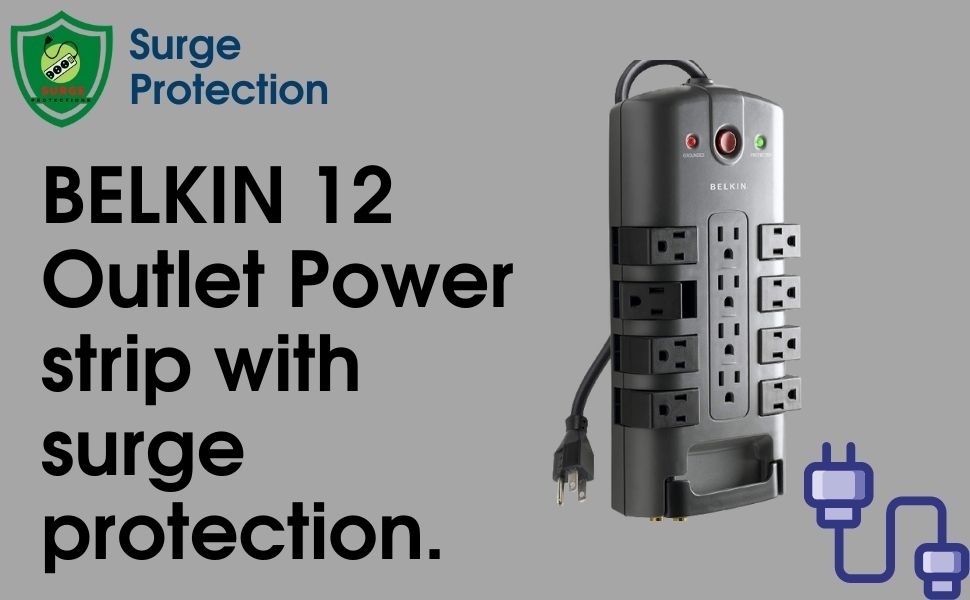 Belkin is a shark when we dive into the ocean of surge protectors for home theater. We are fully confident in Belkin products. Their 12-outlet surge protector for home theater is a great buy. It comes under $30 on Amazon to produce the best results.
It has 12 power outlets in which 8 outlets are rotatable to fit larger plugs and cords easily onboard. It also includes in/out coaxial outlets and ethernet hookups to guard your phone, fax, and satellite box.
This Belkin surge protector can be trusted to ensure protection due to its 4320 Joules energy rating and input of 125V. Belkin surge protectors also lower electromagnetic interference (EMI) and radio frequency interference (RFI) in order to block unwanted line noise.
It comes with an 8FT long power cord and has wall extension ability. Most importantly, Belkin gives a lifetime guarantee and up to $300,000 connected appliance warranty.
Pros:
12 Power outlets out of which 8 are rotatable.
4320J energy ratings.
8Ft long heavy-duty power cord.
Lifetime warranty and $300,000 appliance warranty.
Cons:
No USB Ports.
Panamax M8-AV-PRO 8-Outlet Home Theater Power Management System
The Panamax M8 surge protector is the best surge protection option for home theater out there. It got 8 AC Power outlets, 2COAX, and a telephone and LAN. All of these have high-quality filtration and surge suppression.
Panamax M8 also got standard surge protection, EMI/RFI, high-current noise filtration, and a lifetime warranty. One of its unique selling points is the "Panamax Surge Protector Limited Connected Equipment Protection Policy" which includes $5,000,000 for any equipment that is damaged by AC current surges, LAN, electric storms.
This is one of the best warranty options out there in the market.
Pros:
8AC Power outlet.
Standard surge protection.
EMI/RFI suppression.
High-current noise filtration.
Best Protection Policy and warranty.
Cons:
A little high-priced.
No USB ports.
APC 6-Outlet Smart Power Strip with Surge Protection
APC is a very good reputed brand in the aftermarket of the electrical protection system. If you read surgeprotections.com posts regularly, you might see APC products ranked everywhere.
This APC 6 Outlet surge protection is a smart power strip. Who thought we might need a smart power strip? but here we are.
The surge protector has 6 AC power outlets of which three of them are voice-controlled (Alexa). Also, the surge protector has 2 USB ports.
This surge protector for home theater has a 6FT long cord and a plug at a right angle to save space. This surge protector has 2160J standard surge protections but EMF filtration is not included.
This APC surge protector for home theater comes up with a lifetime warranty and covers the damaged appliances connected to its worth of $150,000. This warranty is not sufficient for your whole house appliances but a home theater can easily be purchased by it.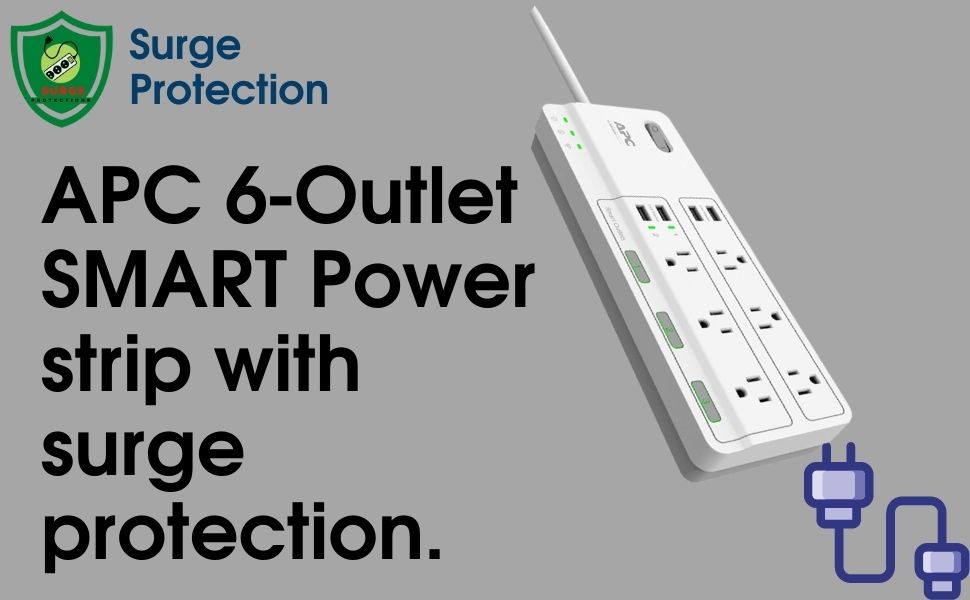 Voice control is activated only on 3 outlets and is only compatible with Alexa.
Pros:
Voice Controlled power outlets.
2160J Standard surge protection.
6 AC power outlets
2 USB ports.
6 Ft long cord.
Cons:
Voice activation only on 3 AC Power outlets.
No EMF filtration.
ECHOGEAR 8-Outlet Power Strip Surge Protector
This surge protector for home theater by ECHOGEAR has 8 power outlets and all of them are rotatable. This will be your biggest advantage in a power strip if you have several chunky cords because they can be fitted in a single power strip.
It got room for 8 cords and is a quite slimline device that can be hidden in a home theater easily. It has an 8Ft long heavy-duty power cable of its own which gives you plenty of flexibility with placement.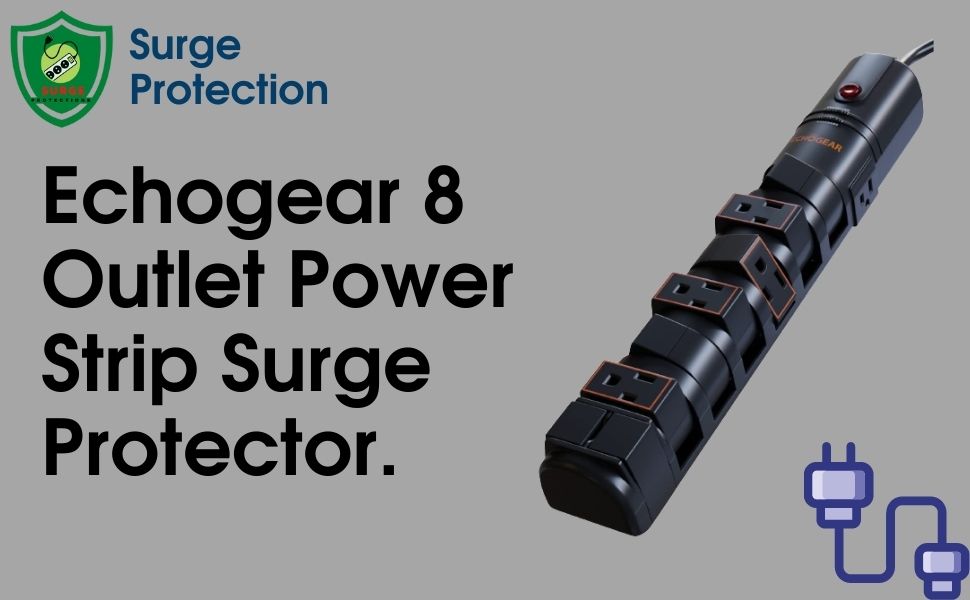 This surge protector for home theater has some limitations. First, their wire is non-retractable so you might end up with all the spare cables lying around you. Secondly, your surge protector for home theater has to sit on the ground as there is no wall mount option available. Hopefully, you'll just be able to hide it behind the TV.
Pros:
8 power outlets.
8Ft long, heavy-duty power cord.
2160 standard surge protection.
rotatable power outlets for more spacing.
5-year warranty with $25,000 damage coverings.
Cons:
No USB ports.
No EMI/RFI filtering.
APC 11-Outlet Surge Protector with Phone, Network Ethernet & Coaxial Protection
As we stated above, we have a lot of confidence in the APC brand. That is the reason that we have more than one APC product on our lists. This surge protector for home theater by APC is a bigger and better choice than other competing surge protectors for home theater.
It has 11 AC power outlets. Outlets for LAN/Ethernet/Phone/Satellite. 6 out of 11 AC power outlets are block spaced for larger adapters. It also includes an 8FT long cord with 180 degrees rotation and a right-angle plug.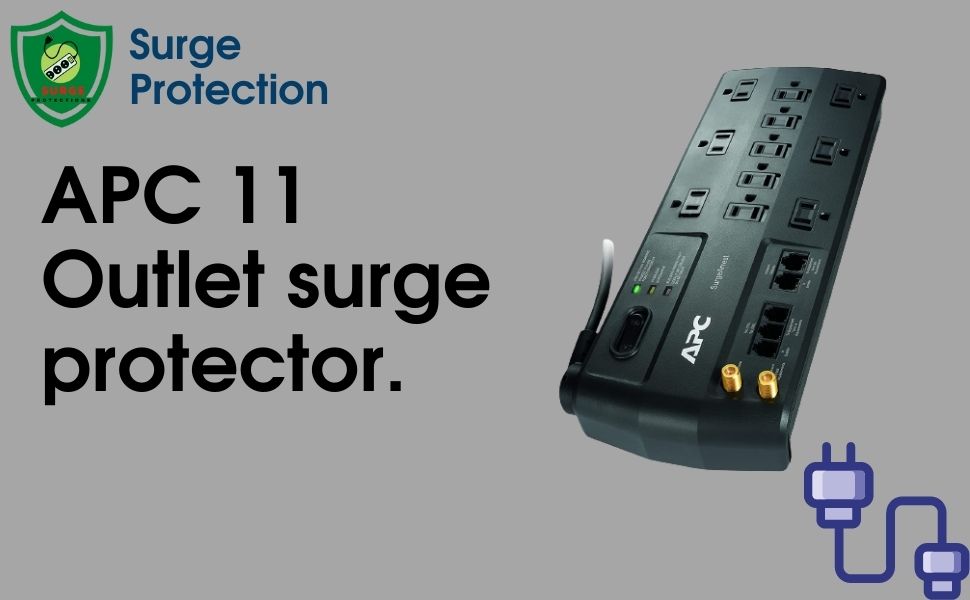 This APC provides a 3020J energy rating for surge protection and comes up with a $100,000 damage coverings.
Some bad things about this APC product are that it has no USB root and no power conditioning capabilities.
Pros:
11 AC power outlets.
Outlets for Ethernet, Phone, LAN.
3020J energy rating.
8 ft long power cord.
Damage appliance covering $100,000
Cons:
NO USB ports.
Poor connection of ethernet when connected to the device.
HOLSEM 12-Outlet Surge Protector Power Strip with 3 Smart USB Charging Ports
HOLSEM Surge protectors are a great buy. It comes under $30 with 12 AC power outlets. Six of them are largely spaced for larger cords and power adapters. It has 2 USB-Ports with smart IC technology with the range of 5V/3.1A and one additional standard USB port.
Its heavy-duty power cord is approximate of six-foot in length. The four holes on the back of the device make it easier for wall mounting. The HOLSEM surge protector for home theaters has an energy rating of 4000J. It means it can withstand surges of 4000 joules of power. Its body is made up of high-quality flame retardant material that has the ability to withstand approximately 1380 degrees Fahrenheit.
Its technical parameters are 15 Amperes/60 Hertz with a power rating of 1875 Watts. One of the USPs of HOLSEM is its overload protector facility. It also comes with a 24-month warranty and lifetime technical support.
Some points that are controversial in HOLSEM surge protector for home theaters are the activation light is too dim to be seen and you may not be able to see it across the room. Some users reported that the Power ON/OFF button is loose, but HOLSEM confirms that it was designed that way.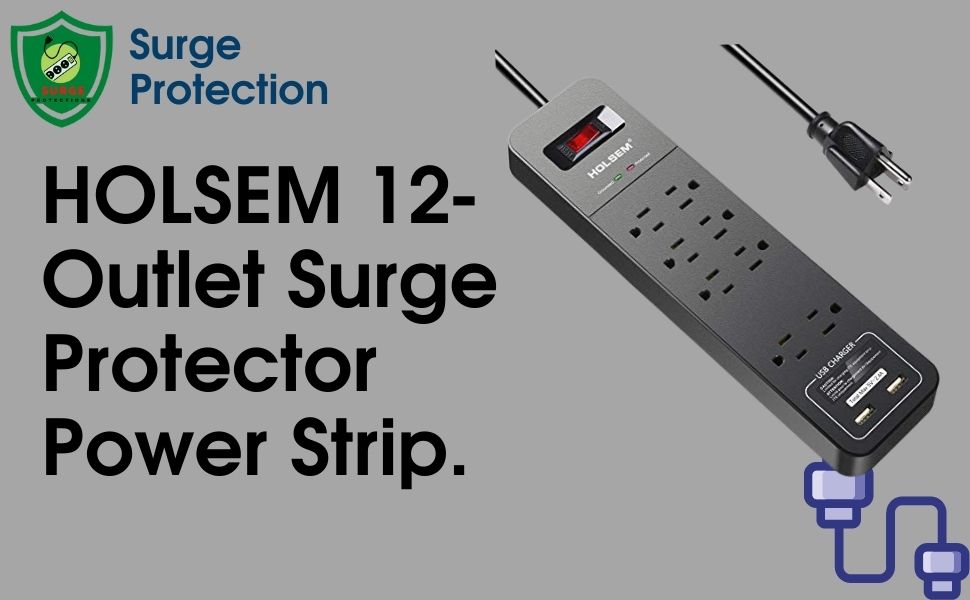 The HOLSEM surge protector for the home theater has no power conditioning capabilities. Lastly, the HOLSEM surge protector has well-spaced power outlets but the power strip itself is very narrow which hinders the placement of bigger plugs.
Pros:
12AC power outlets.
3 USB ports with smart IC technology.
6ft long heavy-duty power cord.
4000J surge protection.
15A/60Hz with 1875W
Cons:
The activation light is too dim.
No conditional power capability.
Loose ON/Off button.
Narrow-body.
Conclusion:
Home Theaters are one of the most used sets of devices in your home. To protect it, you have to take some complimentary steps. Use a surge protector specially designed for home theaters. Designed in a way that it does not produce extra noises that breaks the sound of home theater and some other technical facilities.
We recommend using a surge protector for your whole house.  If you are not in a condition to make your whole house surge protected, then at least make your home theater surge protected.