With the advancements of technology, packing for travel got harder. Let us tell you why. There were days when a traveler packed a few necessary things in a backpack, got a passport, and moved away. These days, the range of necessary things increases many folds. An average traveler has to carry things like Smartphones, Laptops, Digital Cameras, Power Banks, Gimbals, Drones, and many more on their travel necessity list.
With that many devices, charging all of them can be a challenge. In most cases, there is only one charging outlet available. Restaurants and hotels offer only one or two power outlets.
Your trip can potentially be ruined unless you have best a power strip.
What is a power strip?
A power strip is a block of electrical sockets with a wire attached to one end of a flexible cable, allowing the charging up of multiple devices from a single power source.
They are used when many devices are being charged up in immediacy. Many power strips often have circuit-breaking options in case of power overload from your transformer or your electric service provider/company. Some have the ability to protect your plugged-in devices against electric surges. But, there is a strong difference in power strips and surge protectors. Click on Power strips vs. Surge protector.
Why do I need Power Strip during travel?
Having a power strip during your travels can greatly enhance your experience for several reasons. Firstly, many hotel rooms or accommodations have a limited number of power outlets available. By having a power strip, you can plug it into one outlet and instantly have multiple outlets at your disposal. This is especially useful when you're traveling with multiple devices that need charging. Additionally, if you're traveling internationally, a power strip with universal adapters or interchangeable plugs can ensure compatibility with different types of power outlets and voltage standards.                                               Moreover, power strips often come with features like fast-charging USB ports and surge protection, which allow for efficient charging and safeguard your devices against electrical fluctuations. Lastly, sharing outlets becomes easier when you have a power strip, as it allows multiple people to charge their devices simultaneously. Overall, a power strip is a convenient and practical accessory that provides extra outlets, compatibility, and safety, making it an essential item for hassle-free travel.
How we tested these power strips.
Testing these power strips is very important before recommending them to our community. Our experts have designed a funnel-like process. Every single power strip has to go through this funnel before getting mentioned on this website.
The first step of this process is the identification of the control button on the power strip. The best power strips have a control button on them. All devices turn off/on by one main on/off button. There are two modifications to this concept. One is the Master/slave power strip. Another is the Remote Control power strip.
The second step is Indication. Good power strips have a neon light or a LED light indication to show the running current. Some even have led indication at every outlet.
Energy-saving and Stand-by feature is also the most crucial and advanced features of a power strip. The sensor circuit in the power strip detects the level of power and strips off the power if the appliance goes on stand-by. This reduces the consumption of power of the appliances plugged in.
On the fourth count, the best feature is to have socket arrangements in the power strip. The best power strips have two or more two types of sockets. Sockets arrangements vary differently. For physical access reasons, there is a maximum of two rows.
The single most crucial feature of the power strip is Surge protection and filtering. The best power strips have built-in EMF/RFI filters and surge protection features. They have metal-oxide varistors that turn down excess voltages into the ground, in return protecting your appliance from power surges.
The power strip device with all flags mentioned above can be considered the best power strip of all time. Buying the wrong kind of power strip can cost you a life. A poor power strip can burn down all your devices and connected appliances for a minute reason. We, as surgeprotections.com, do not want you to waste your money, risk your life and the health of your devices.
Here is our recommendation for power strips to buy.
If you're looking for extra protections for you precious and costly electric appliances like smartphones, tablets and laptops then this article is for you, Best travel Surge Protectors 
Best Travel Power Strip: ANKER POWER EXTEND CUBE.
We have a lot of confidence in ANKER. Their power strips pass our every test and take our top spot. It combines many of the top features you need in a power strip. It is compact, lightweight, and aesthetically correct.
The circular layout lets you use all of the power outlets without letting chargers over abuse and bump into each other. Its 5ft long cable and 45 degrees cube make it easier to use outlets even from hidden behind the furniture.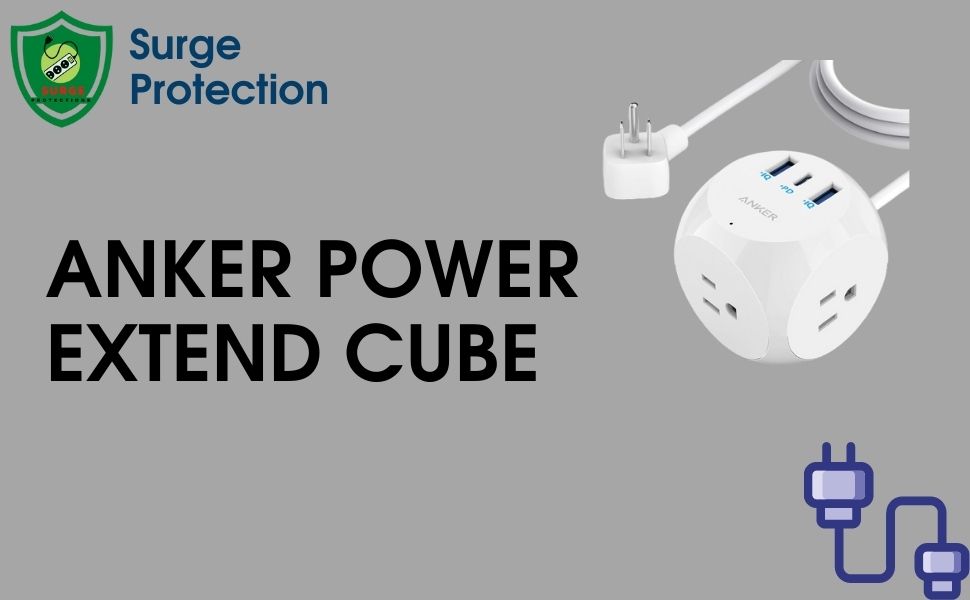 It has two 12W USB-A ports and a single 30W USB-C port. On the other hand, it has three AC power outlets. This power strip is a good mix for all travellers. It has low weight and more flexibility.
ANKER is a prestigious brand when it comes to chargers, batteries, and other power-equipment manufacturing. The company gives a regular 18-months warranty and a short-spanned $25,000 warranty in case of damage to the connected appliances.
Let's discuss its pros and cons.
| | |
| --- | --- |
|                    Pros |                     Cons |
| Compact and Lightweight. |  Surge Protection is not included. |
|  Aesthetic Designs. |   |
|  Power delivery support of USB-C 30W |   |
| Generous numbers of AC outlets and USB ports |   |
best travel power strip
Best Overall Power Strip: APC V11PT3 Surge Arrest.
APC offers a $100,000 equipment protection policy in this 11 outlets surge arrest power strip. This shows their confidence in the perfectness of this device. It can be used in scientific labs to protect highly sensitive instruments. Even we have a hard time coming up with a similar device like this.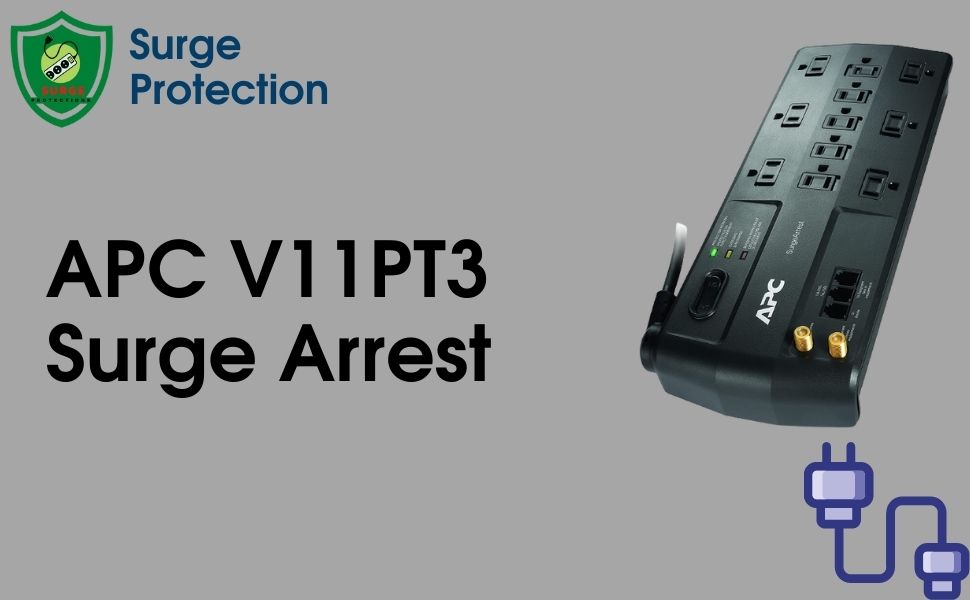 This device has a proper led indication of the running current and faulty wiring. It also has multilayered protection against all types of surges from outside. The six outlets for big plugs are nicely spaced without congestion. All the outlets have covers to keep the dust and debris out. Also, the long wire and 180 degrees cord make everything easier and nicer.
| | |
| --- | --- |
|                    Pros |                     Cons |
|  3020J Surge Protection. |  No USB Ports |
|  11 Power Outlets |   |
|  LED Indications. |   |
| 8ft Cord Length |   |
| 15amp Circuit Breaker |   |
best travel power strip
Best PowerStrip for International Travel: BESTEK USB Travel Power Strip.
The BESTEK power strip is an ideal powerstrip for international travel. It is versatile and has an adaptable strap.
Its unique selling point is its set of eight adapters that covers almost every major country adapter standard. You can also buy these adapters separately but buying these in a set saves your extra efforts and some couple of bucks.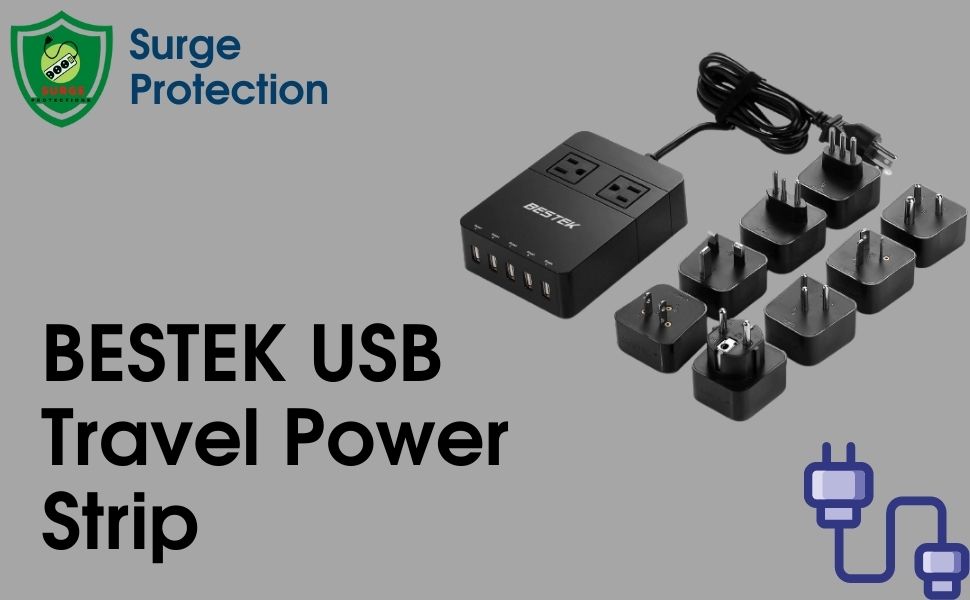 The power strip provides 2 AC outlets and a generous 5 USB ports for chargings. Since most of the travel accessories can be charged with USB, its formation makes quite a sense. The combined power outlet o all the sockets is 8A or 40W which is capable of reaching 2.4A or 12W. This makes charging your devices faster.
Its compact shape makes the power strip a lot more portable. Its durability makes it heavier than other power strips but it comes with a cost of a sturdy fire-resistant body.
| | |
| --- | --- |
|                    Pros |                     Cons |
|  Eight travel adapters make it suitable for most international travels. | No Voltage Conversions. |
| Sturdy and Durable. | Heavier than other power strips. |
|  Strong surge protection of 1700 Joules |   |
|  8A 5USB Slots. |   |
best travel power strip
Best for Work Travel: Tessan Flat Plug Extension Cord.
If you need a couple of extra outlets in a compact form, Tessan Flat Plug Extension Cord is your go-to option. It is easy to pack and go when travelling. It can easily be fit in a laptop back while working offsite.
Its far-spaced 4 outlets make it easier to plug devices with larger adapters without overlapping with each other. For charging devices, 3 USB ports can cover you.
You can easily hang this power strip on a wall hanger or anything. It is due to its lightweight compact shape. Tessan Flat Plug Extension can offer you surge protection of 3940 Joules.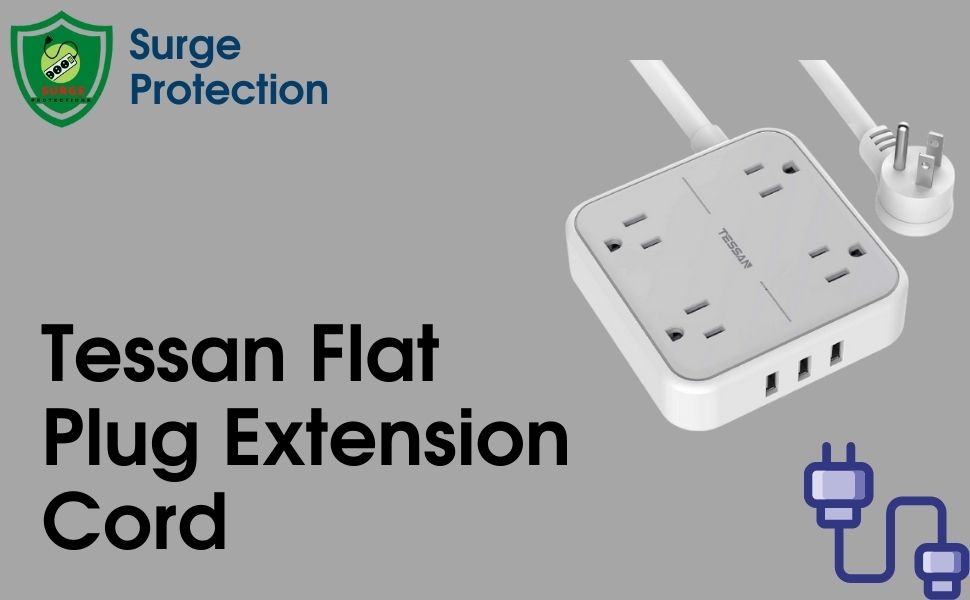 | | |
| --- | --- |
|                    Pros |                     Cons |
|  4 AC Outlets. |  No ground fault detection. |
| 3 USB Ports. |   |
| 1 Power Switch. |   |
| 3940J Surge protection. |   |
|  10Amp Circuit breaker. |   |
|  5ft Cord Length. |   |
| 90-degrees Plugs. |   |
best travel power strip
Best Mini-travel power strip: Belkin SurgePlus Swivel Charger
The BELKIN SurgePlus swivel charger is a good feature, compact, pocket-size power strip that you can easily carry around. It is made for a constraint environment, eliminating any tedious wires, it plugs directly into the wall outlet. The swivelling plug area lets you orient it in any direction.
For protection, this mini power strip offers you 918J surge protection with a strong fire-resistant outer body. Belkin SurgePlus has 3 AC outlets and 2 USB Ports. The Belkin SurgePlus Swivel Charger is an excellent, flexible option.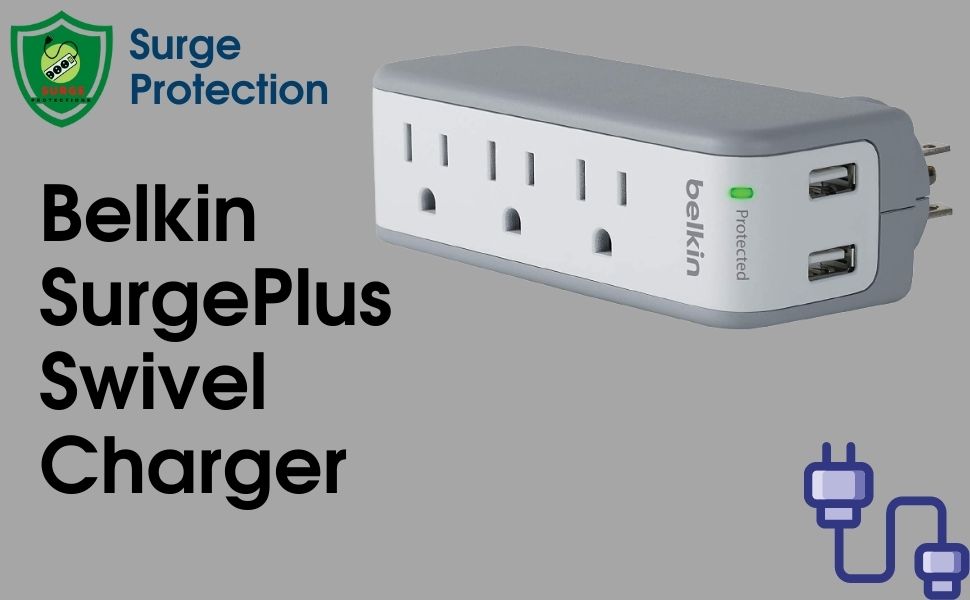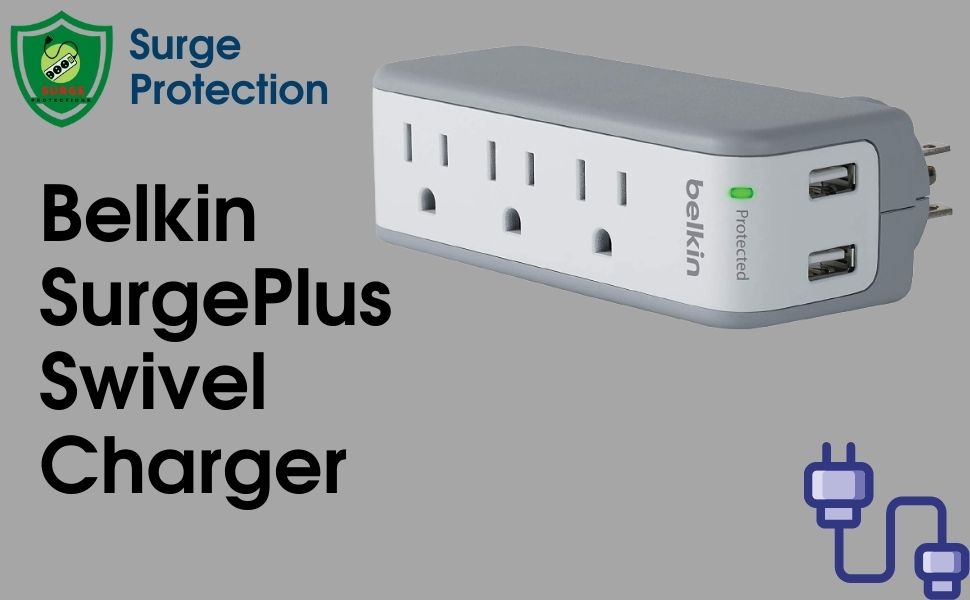 | | |
| --- | --- |
|                    Pros |                     Cons |
|  Very Compact. |   Low USB power output. Combined 2.1A |
|  Good size to ports ratio. |   |
|  Swivelling plug makes it very flexible. |   |
best travel power strip
Best for Desktop: Anker PowerExtend USB-C 3 Capsule
The Anker PowerExtend is more of an extended outlet with a complete set of USB ports than a power strip. Ideal for desktop and aesthetic workspaces where you regularly plug in computers/laptops and charge mobiles. Despite being small, it is lightweight and has a non-slip pad at its bottom.
It has a 3 LED set which indicates the power is on, the ground is protected, and surge protection is on respectively. It has an output of 45W from its USB ports for faster charging of compatible phones and laptops.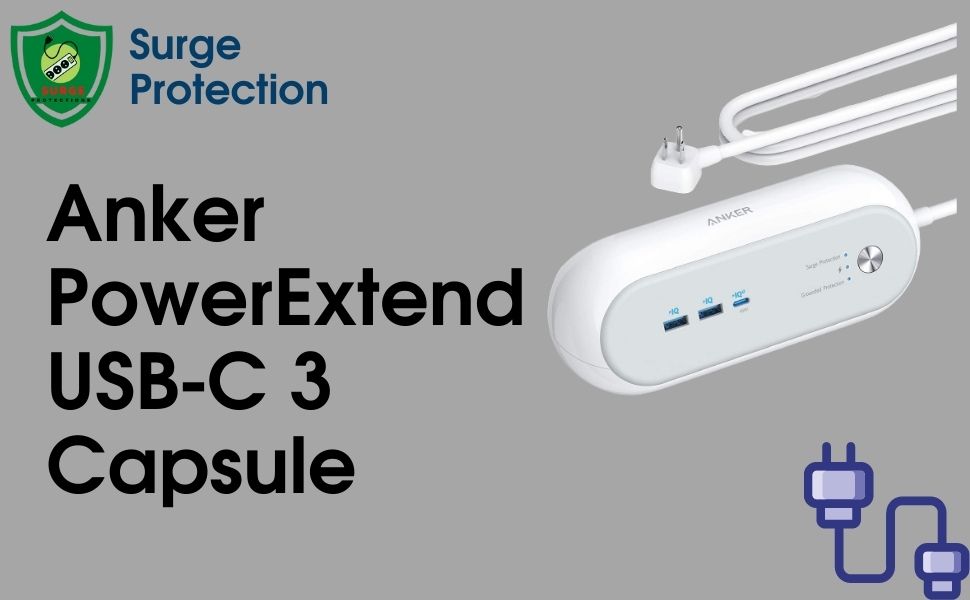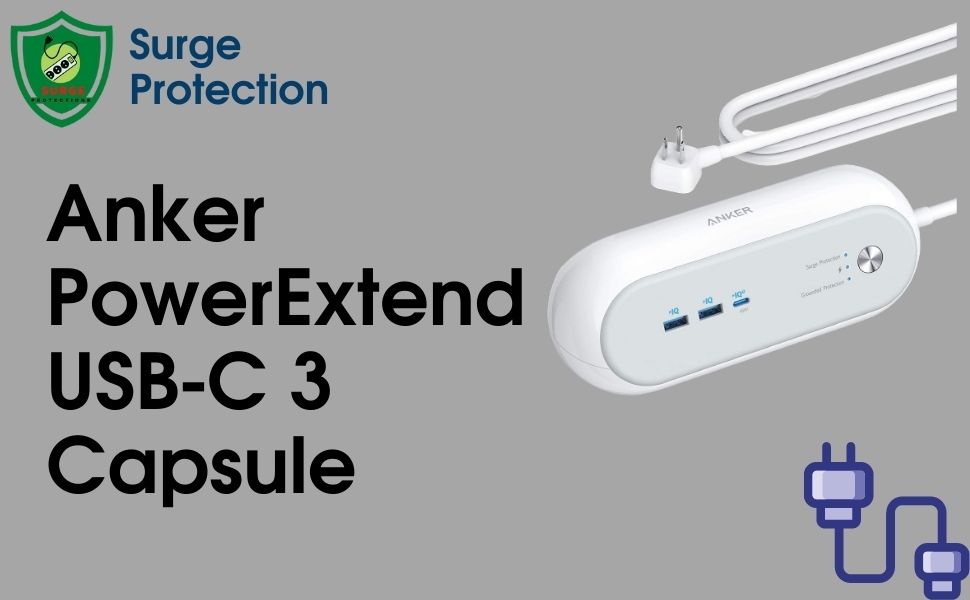 | | |
| --- | --- |
|                    Pros |                     Cons |
|  3 AC Outlets. |  Poor surge protection of 300J. |
|  2 USB-B Ports and 1 USB-C Port. |   |
|  1 Power Switch. |   |
| 15amp Circuit breaker. |   |
| Fault ground detection. |   |
| 6ft cord length. |   |
| 90-degrees plugs. |   |
best travel power strip
Conclusion About best Travel Power strip:
Power strips are really helpful devices, have a wide frame of applications, and provide safety. Invest in power strips wisely. Use surgeprotections.com's guide to buy these devices. Power strips are handy travel accessories if you are a tech traveller or planning to travel with family. There are not enough outlets for everyone's devices and gadgets. That is where power strips come in. Plug it in and you have plenty of room to charge.
if you need more information click here